Appointments only
970 657 3366
Aromatherapy or Pure Medical grade oxygen therapy for fun or to address mild altitude challenges.
Private comfortable oxygen suite seating up to 6 people.
20 Seat Oxygen EVENT O2BAR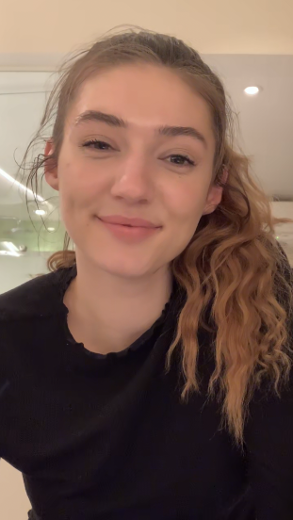 Meet 'Gabby'
your friendly
'Oxygen Bar Tender'!
Whether you want the fun of trying oxygen or need help with mild altitude issues, Gabby is ready to hook you up to powerful plain or flavored oxygen.
Gabby grew up in Telluride, is a seasoned skier, certified dog lover and professional makeup artist.
Aroma or

Pure O2

30 Minutes* $60


40 Minutes $80

60 Minutes $120
*

$120 (1 or 2 Clients) Minimum
Relax, Energize, Breath and Sleep Easier | Prevent or Remedy Mild Altitude Challenges.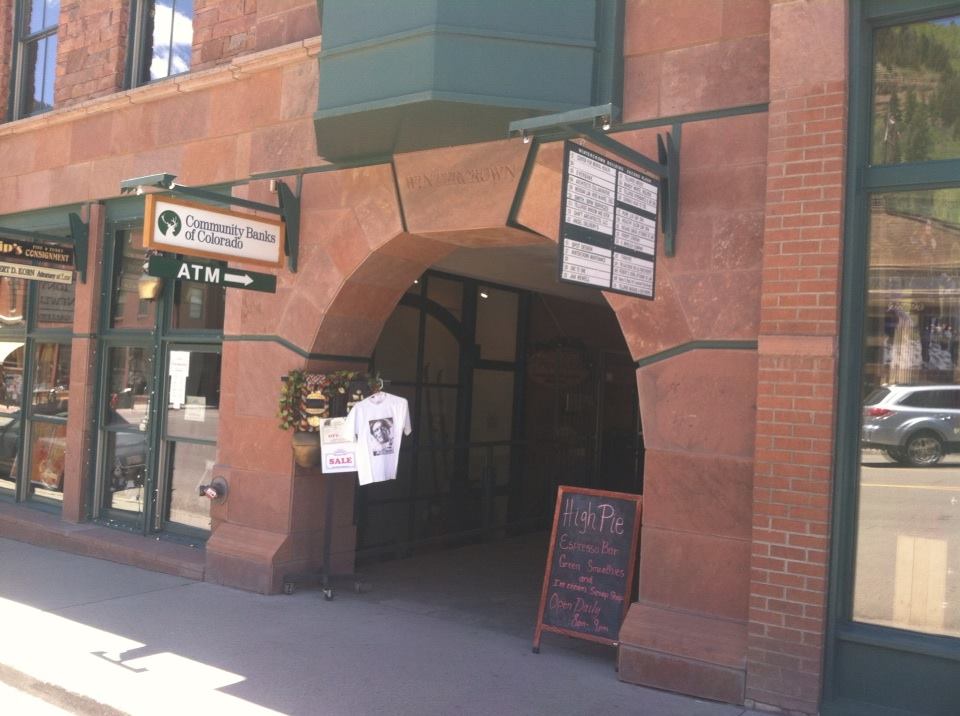 Breezeway between High Pie / Overland, to Elevator on Left, inside hit 2, see double central windows, door opposite elevator.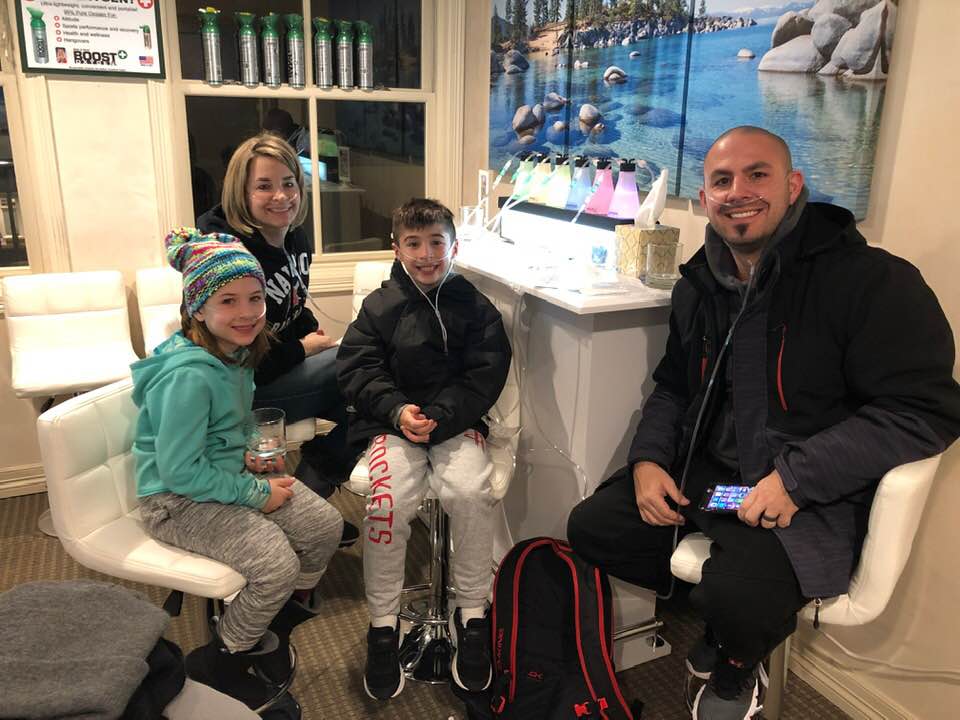 100+ 5 STAR REVIEWS | Seating for Groups | Aromatherapy or Pure Oxygen | Mask Acute Oxygen Delivery.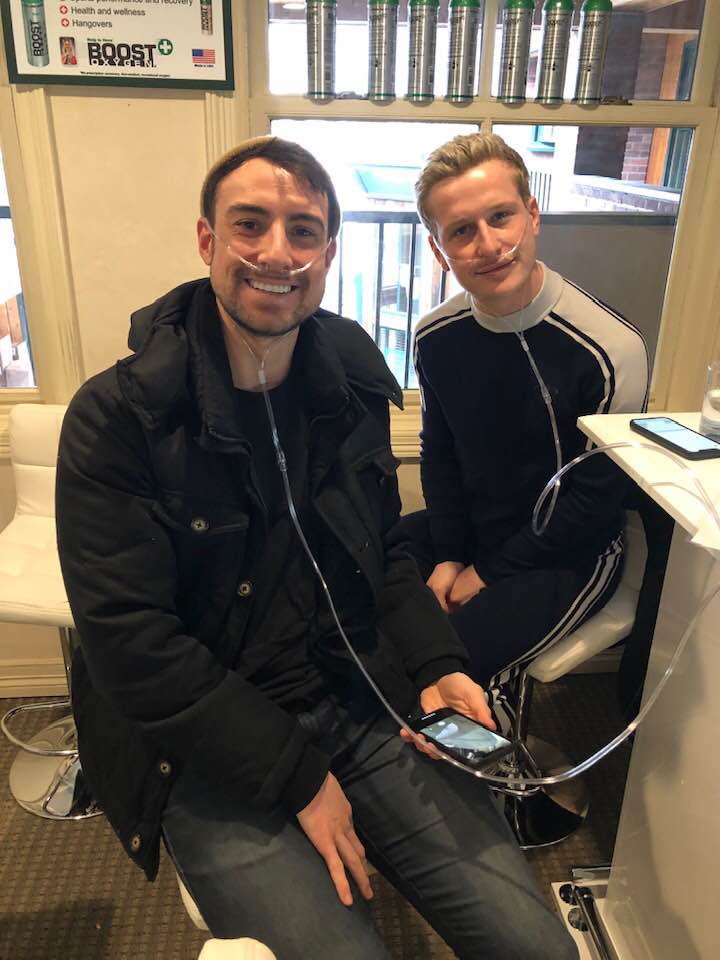 Telluride's Premier
Oxygen BAR
Appointments Only!
Downtown at 100 W Colorado #231
Use Breezeway between left of Overland, use Elevator on Left, inside hit 2R, find Suite 231
20 Station Oxygen Bars with Bar Tender for Weddings & Events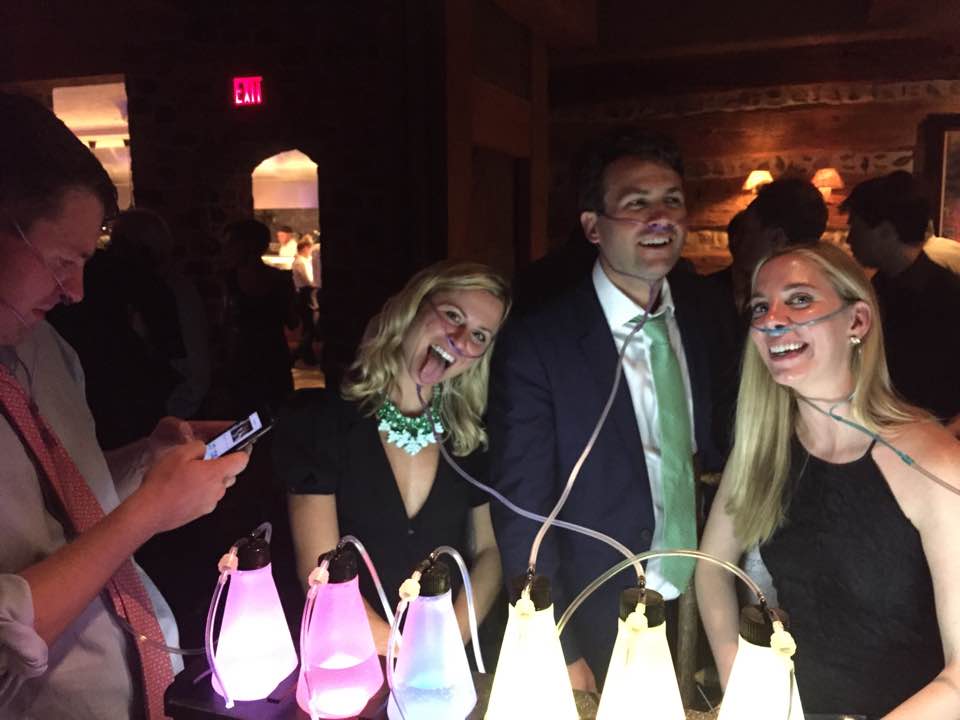 WEDDINGS / EVENTS
Gabby will work with you to create an Oxygen Bar and Tend at your Wedding or Corporate Event. A 12 Person Oxygen Bar can be tastefully worked into any even design. From $650 for 4 hours includes 50 Breathing lines.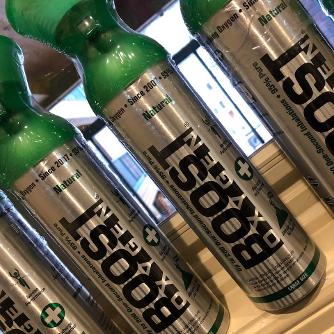 google

* * * * *
Nicole Notar - March 2022
! Karen and Gabrielle were the most down to earth incredible people!! I had a very rough time adjusting to the altitude and Karen was kind enough to fit us in very last minute. Despite being so late in the day, she spend and our hour with us using the oxygen treatment and just chatting with my boyfriend and I. Such and incredible (and helpful) experience! Whenever we go back to Telluride, Karen will be my first call.
google

* * * * *
Hannah Dubov - Oct 2021
Karen was the nicest person I have ever met! She instantly answered the phone when I wanted to make an appointment the day of. I was feeling terrible after a friends wedding and she went above and beyond! She made sure I was comfortable with the room temperature, made me tea, played soft music and let me prop my feet up. She is super friendly and chatty but also told me she could talk less if my headache was really bothering me. I wish I was staying in Colorado longer because I would've loved to go back just to hangout. Honestly the kindest person I've ever met. If you are feeling at all sick you should go see her! I didn't even know if I had altitude sickness or just a hangover but immediately afterwards I felt amazing. Go see Karen for all your oxygen needs!
google

* * * * *
Lindsey Applebee - Sept 2020
Karen is the most pleasant and I was feeling very lightheaded and had a pounding headache for days upon arriving Telluride. I knew I couldn't carry on as is, so I found this place on Google and am so glad I did. Karen was very accommodating and was able to get me in very quickly same day. She really engages with her clients and goes the extra mile. Highly recommend this place if you're feeling unwell from altitude while in CO!
google

* * * * *
Andrea Last - August 2020
Karen made everything feel safe during Covid season! She checked our temps and gave us new oxygen tubes for the session. She was informative and gave us Texans more insight on altitude sickness. Such a cool and fun way to get an oxygen treatment in Telluride. Thanks again!
google

* * * * *
Mike Sturm - March 2020
Karen is the most pleasant and responsive person. You can tell by the way she works with you that she actually cares about you and your health. She explained everything in detail. We really enjoyed talking with her about other things as well. She's a professional.
google

* * * * *
Nick Johnson - Jan 2020
Wonderful experience here. Not just oxygen, Karen truly brightened my day and helped with many things.
google
* * * * *
Teck Jenner - Jan 2020
I love this place & I recommend it for anyone traveling to high altitudes! I will be back forsure.
google
* * * * *
Christian Dugas - Jan 2020
Karen was incredibly knowledgeable on Altitude sickness and was comforting from the start. Superior customer service and incredibly personal to make the whole experience enjoyable. Will definitely be back.
google

* * * * *
Margaret McConn - Jan 2020
Karen is the absolute best!! She is so fun to talk to and gets you everything you need in no time. Highly recommend!
google

* * * * *
Reid Caspary - Jan 2020
Great Experience.
google

* * * * *
Dr Peter Boulden - Jan 2020
Unreal experience! Karen literally saved the trip and got me feeling better in no time. Not only did she call me back at 7.30am (I was desperate) but she delivered it herself to the Madeline Hotel. Then came in my room (I was in bad shape), hooked it up and spent like 30 minutes explaining the equipment, why this happened (acute Altitude sickness) and how to prevent it for next visit. Truly blown away by her education and white-glove customer service. Don't waste your time with others here in Telluride - call Karen!
Dr Peter Boulden.
IMade a super last minute appointment and Karen was great. I don't know if I enjoyed the oxygen + benefits or hanging out with her More! I'm going back next time I visit and would suggest it to anyone.
google
* * * * *

Penny McQuilkin - June 2019 - BAR

I enjoyed a fantastic facial at Healthy Glow and happened to mention that I was struggling to sleep - something I chalked up to the menopause and was resigned to putting up with. On Karen's advise, I had half an hour at the Oxygen Bar and the results were incredible - I instantly felt better that night than I had for YEARS! I was so impressed that I took all of our party to the Oxygen Bar the next day - all 10 of us were treated at the same time and my friends were as impressed as I was! With the Mountain View, delicious teas and different "flavors" of oxygen (my favorite was eucalyptus - so refreshing!) - we all agreed it was a high point of the holiday. I've definitely continued to see better after my treatment and I'm less breathless too. I can't recommend this place highly enough!
google

* * * * *
Katte Carreon - May 2019 - BAR
Karen is great! We had our oxygen treatment very promptly and had some tips on how to find some of our fave english food we mis so much :)
google

* * * * *
Rob Kathmann - May 2019 - BAR
Called Karen, was told to come in. Awesome service within 20 minutes was already feeling better! Highly recommended. Very informative.
google

* * * * *
Carl Savitz - May 2019 - BAR
Amazing life saving experience!! Took me from barely able to climb stairs to feeling great. Thank you Karen !
google

* * * * *
Madi Theyson - March 2019 - BAR
Karen Awesome place! Such a great experience on our family vacation. Can't wait to go back!
google

* * * * *
Shawn Hendrickson - March 2019 - BAR
Karen saved my day. She was so kind and informative. We will visit again.
google

* * * * *
Jessica Cuccuio - March 2019 - BAR
Karen Absolutely amazing! Best and most relaxing way to start off week in Telluride. Karen is the best!!
google

* * * * *
Lesslie Koreneck - March 2019 - BAR
Karen Wonderful experience! Karen was very accommodating and great at what she does!
google

* * * * *
Tammy Phillips - March 2019 - BAR
Karen was the kindest person I met in Telluride! We came across her o2 bar while walking through town and my family was experiencing altitude sickness symptoms. She put all four of us on oxygen (smells great) and we left there headache and nausea free. Go see her! She makes everyone feel so comfortable and she genuinely cares.
google

* * * * *
Louise Howson - March 2019 - BAR
I went to Absolutely Oxygen Bar feeling pretty awful. Karen was wonderful! She helped me choose which treatment to get and for how long. She's delight & very professional. This is THE only oxygen bar in the area - your only other option is to have it delivered to your place which Karen can also do. If you're needing to feel better at this altitude or just feel good overall go here.
google

* * * * *
David Lee Morea - Feb 2019 - BAR
Loved the bar! Karen is so fun and helpful. She's go the best oxygen in town.
google

* * * * *
Paul Hernandez - Feb 2019 - BAR
Karen is amazing!! She is not only so sweet and funny but her oxygen is the bet!!! She was super helpful and didn't try to oversell anything.
google

* * * * *
Steve Anderson - Feb 2019 - BAR
I love Karen. She is fabulous and took such great care of us!! Highly recommended
❤️❤️❤️❤️❤️❤️❤️❤️❤️❤️❤️❤️❤️❤️❤️❤️❤️
google

* * * * *
Thoma Widdison - Feb 2019 - BAR
Would highly recommend.
google

* * * * *
Trey Pasquariello - Feb 2019 - BAR
Cute place with an even cuter owner. Really good energy. Leaving feeling line an eucalyptus angel.
google

* * * * *
Kooshan Nayerahmadi - Feb 2019 - BAR
Great experience at Absolutely Oxygen Bar where Karen took great care of me. Just 20 minutes on the O2 machine, and my shortness of breath had started to feel better. Highly recommend if you're in Telluride.
google

* * * * *
Marysa Monterubio - Feb 2019 - BAR
Karen was wonderful! She is very knowledgeable and it was a wonderful experience. We walked in off the street while looking for an oxygen bar and were so glad we did! 5 Stars.
google

* * * * *
Daniela Chamorro - Feb 2019 - BAR
Came to Telluride and was suffering from severe altitude sickness. Stumbled upon this place and can't thank Karen enough! She was so kind and helpful. Put me on oxygen for 20 minutes and it made a world of difference! She also rents the oxygen machine for days at a time, so if you're having a serious bout of altitude sickness, she can drop them off as well.
google

* * * * *
Cortney Behrends - Feb 2019 - BAR
Coolest experience & makes you feel great. The different aromas make the oxygen bar so much more enjoyable. Come visit Karen, she's delightful.
google

* * * * *
Michelle Hopkins - Feb 2019 - BAR
We stumbled upon this place walking down the Main Street of Telluride. Karen was so helpful and bubbly. It was so fun to try different flavors or aroma of Oxygen. Great price as well!
google

* * * * *
Eric Welch - Feb 2019 - BAR
Karen is very knowledgeable and goes above and beyond to make your visit a pleasant one.
google

* * * * *
Michelle Mirabal - Feb 2019 - BAR
Came here with my parents when we had a free afternoon in Telluride. Karen opened the bar just for us to experience the oxygen ... it was a unique experience and I loved the Eucalyptus! We got to watch as our oxygen levels increased from visiting the bar - very cool.
google

* * * * *
Leslie Johnson - Feb 2019 - BAR
She knows her stuff! We were visiting telluride and had some symptoms of altitude sickness. Felt so much better after visiting Karen and following her recommendations. Highly recommend!

google

* * * * *
Drew Cook - Feb 2019 - BAR
I had a great time at this oxygen bar in Telluride. When we arrived, it looked closed but Karen was quick to respond to our call and open it up for us. Had a great experience. Would recommend.
google

* * * * *
Jake Welch - Feb 2019 - BAR
Lovely experience, Karen was very knowledgeable and helpful!
google

* * * * *
Hoang M. Lawrence Nguyen - Feb 2019 - BAR
We Had symptoms of altitude sickness and came to Absolutely OXYGEN Bar for oxygen therapy. Karen was very knowledgeable about altitude sickness and gave us great advise. She was also very friendly and made us feel very comfortable. We highly recommend this place if you are in Telluride and you experience altitude sickness.
google

* * * * *
Andrea Ricci - Jan 2019 - BAR
Great place very helpful.
google

* * * * *
Jake DeScenna - Jan 2019 - BAR
Oxygen bar was great after a hard day of skiing. Karen is very knowledgeable and friendly!! We will be coming back next year!
google

* * * * *
Michael David - Jan 2019 - BAR
Karen rocks! You can feel the oxygen effect quickly!!
google

* * * * *
Dariella Rivero - Jan 2019 - BAR
EXCELLENT!! 100% RECOMMEND!!
google

* * * * *
Jack Britton - Jan 2019 - BAR
Very friendly environment. Absolutely Oxygen is a great place to get acclimated to the altitude and re energized after a long day on the mountain! I will recommend to any friend or family member.
google

* * * * *
Drew Manca - Jan 2019 - BAR
Absolutely Oxygen Bar was a life saver. I was feeling very sick after my first few days skiing but then someone I know recommended absolutely oxygen bar and I was back feeling better than ever in no time. I would highly recommend absolutely oxygen to anyone visiting Telluride.
google

* * * * *
Blaire Kaufman - Jan 2019 - BAR
Wonderful hospitality! Was treated with a beverage and good conversation. Left feeling relieved of altitude sickness.
google

* * * * *
Kate Douglass - Jan 2019 - BAR
Great service! Made my friend and I a drink and had a great experience! Very friendly!
google

* * * * *
Mason Brown - Jan 2019 - BAR
Amazing experience with a lovely owner. An absolute MUST if you are suffering from any symptoms of altitude sickness.
google

* * * * *
Anette Barlow - Dec 2018 - BAR
I've travelled & lived in Europe most of my life & struggled with the effects of the altitude. This year while visiting family in Telluride I was told about Absolueltey Oxygen Bar. Called to check it out, well what can I say! Never mind the excellent staff & service but what is more amazing is the fact that my energy levels have improved as I've been able to adjust to the altitude. Breathe so much easier & sleep so much better. Thank you Absolutely Oxygen bar 5 Star. Amazing, you have to try it!
google

* * * * *
Dolores Cavatore - Dec 2018 - BAR
I'm a regular visitor to Telluride and Absolutely Oxygen Bar is now always the first stop when bringing along friends. In the past, many of them experienced severe headaches and other unpleasant symptoms from altitude sickness. The use of the aromatherapy oxygen prevents and eliminates these symptoms from occurring. Karen the owner is absolutely wonderful and very knowledgeable. I would highly recommend the Bar to anyone who comes to visit Telluride.
google

* * * * *
Richard Bristow - Dec 2018 - BAR
We always go here before we snowboard... Wish I was clever enough to explain why - but we always seem to ride better and faster if we stop here on the way to the lifts! Love the ambience too...we always end up laughing. HIGHLY RECOMMEND!
google

* * * * *
Poog Man - Dec 2018 - BAR
We Living on the East Coast, we did not fully understand how much the altitude difference would effect us, especially our kids. Being able to use the oxygen bar with the entire family was a life saver. The staff was very friendly and helpful. They made us feel at ease. The atmosphere was lovely. Very clean and comfortable. Over all it was a very simple and convenient experience. Absolutely Oxygen saved our vacation.
© Copyright Absolutely OXYGEN BAR Telluride